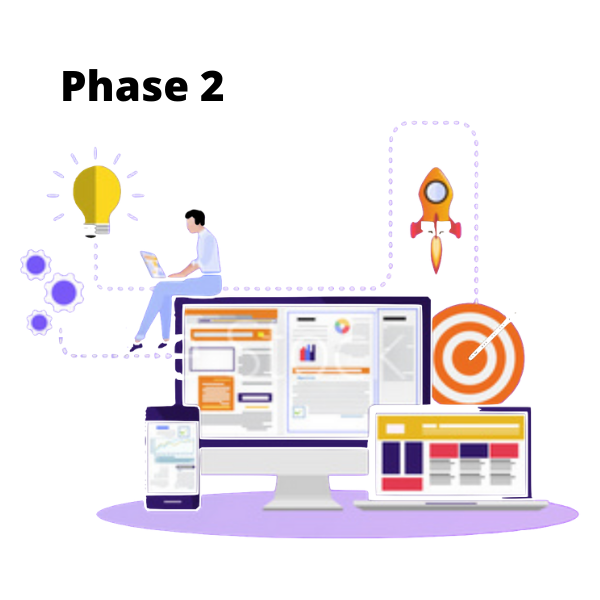 Convert: Second Phase of Inbound Marketing Explained
Now that you know about the first phase, we are going deeper into the inbound methodology. Here you will find all about the second phase of Inbound Marketing.
What is the Second Phase phase of Inbound Marketing?
The Second phase of inbound marketing is the convert stage. In this second marketing stage, the goal is to use tools like contact forms, chatbots or other means to get your website visitors' contact information.
What are the action I can take in the Second Phase phase of Inbound Marketing?
 1.Place Contact Forms on your Website
Contact Forms are a great way to convert leads in the second phase of Inbound Marketing. Forms can be placed practically  anywhere on your website, such as in the footer of your homepage or on a "contact us" page.
You probably have seen most of the contact forms placed on landing pages, that's because the purpose of a landing page is the collect contact information and provide the visitor with something in return ( such as an ebook, guide or some other type of file ).
When you create your landing pages, try to cut them off the your primary website so visitors have no where to go and they finish reading your information, leading them to the contact form.
Placing a form on your landing page is one of the simplest ways of converting guests into qualified leads. The form should be very straight-forward. Don't request for more information than you need, otherwise, the visitor might think it is too time-consuming and exit your form.
2.

 

Convert visitors with a call-to-action
Calls to action are really important in the second phase of Inbound Marketing because it is what catches the website visitor's attention.
A call-to-action can take various forms  like an image, button, or line of text that prompts website visitors to take action. The action could be anything from downloading an ebook, signing up for a webinar, getting a coupon, enrolling for an event, or taking advantage of some other type of offer like we talked in the previous point.
Normally a call to action can be placed anywhere on your website, it could be a banner, written content or if you want you can place them outside your website on your emails. Usually a Call to Action will drive your website visitors to a landing page where they will be able to fill your contact forms.
There are a few tricks to creating a successful call to action. Make sure your call-to-action is designed in an eye-catching way. Throwing in a pop of color that contrasts with the rest of your website is a simple tactic that you could use. Also try to use language that will make visitor want to leave their information on your contact form
3.

 

Install a Live Chat on your Website
Live Chats are super useful in the second phase of Inbound Marketing, live chats are tools designed to get more conversions while you talk to people in real time on your website. This is a way to substitute phone calls and have everything you talked about with the lead in one place.
Today, you can convert people through live chat directly on your website or by offering them an easy way to mark your calendar for a consultation. Your Live chat should be built in an easy way to follow because your sales team might use those conversations in the future.
4.

 

Use a CRM System to track your leads
A CRM ( Customer Relationship Management ) system is a great tool to use in the second phase of Inbound Marketing.
Basically, a CRM is a database connected to your website that allows you to communicate with your contacts and keep track of how they behave on your website. When you convert leads on your website, they'll appear on your CRM
A CRM helps manage your contacts within your company's sales funnel. Track every interaction with a lead and store that information so you can refer to it later. This includes any emails, page views, calls, scheduled meetings, and notes relating to each contact.
How can The Inbound Project help me with the second phase of inbound marketing?
If you are having trouble with the second phase of inbound marketing, contact us and we will give you a free consultation on how you can start.
Go back and read about the first phase of inbound marketing here: